First let me tell you about who I am, where Dunn's came from and then about our fantastic staff. My name is Bob Dunn and I was involved in hunting before I was in my teens. At first, I would watch my father preparing for a day afield with his shotgun or rifle.

I would sit on my grandfather's knee and listen to his stories of his trip north to hunt for moose with the indians in Senneterre, Quebec. The 16 mm movies revealed six or eight cars of hunter and gear traveling to Canada in the thirties and forties for a one month trip. Back then, I remember grandpa saying it took one week just to get there. And then there were the wall mounts of Canada moose, big whitetail deer from Maine, trophy size Northern Pike that seemed as long as I was, and Grandma's first wild turkey. God, how I remember those trips to grandpa's. During school, I remember many of the kids hunted, but there were only two of us who hunted every day.
When we were finally able to drive, we branched out and started to travel to hunt. College and the Army limited our time afield, but it gave us new areas to hunt so the trade-off was worth it.
My professional career began as I lived in Pennsylvania and hunted in Maryland. In the late sixties the skies of Maryland were filled with geese. It was a sight without equal for any waterfowler. I was in heaven. Then came my first trip west to Idaho to hunt elk and deer with an outfitter.

I quickly learned that traveling to the western states was where you needed to be to hunt big game in North America. While in the west, I met many like me from the east. We were all eager to hunt in Idaho, but found it difficult to arrange a trip. It was during these adventures that I realized people from home needed someone to help get them out here for a quality experience.
Before the end of the seventies, I had hunted numerous times in Idaho, Montana, Wyoming, Colorado, British Columbia and Alaska. At that time there were maybe five booking agents in the U.S., and they were all out west. From listening to my outfitters, I learned that many of their clients were from Pa. It was then that I decided to start a consulting business for Pennsylvania hunters that wanted to hunt out west. Certainly, with only four or five agents in the country, and none east of the Mississippi, there would be room for one more agent.

The year was 1979 and North American Outfitters Unlimited began as a partnership.
From the start, our motto was we would go first with the outfitters before we even sent a client. If they made the grade, we would represent them, insuring that we had first hand knowledge and our clients would not have any surprises when they arrived.

In 1985, we branched out to start offering trips to several locations in Africa. We also purchased an exclusive guide area in Alaska for caribou and brown bear. My partner retired in 1987, and I changed th company name to relect what we were all about: Sport Hunting. What a ride, I have now hunted most of the western states including Oregon, Idaho, New Mexico, Colorado, Texas, Wyoming, Montana, Utah, North and South Dakota, Kansas, Hawaii and at last count, 24 trips to Alaska.

I have hunted the Canadian provinces of British Columbia, Alberta, Saskatchewan, Manitoba, Ontario and Quebec. I have also hunted South Africa, Botswana, Namibia, and Zimbabwe.
As you know, if you're not hunting with the best than you're wasting your time and money. At Dunn's, we employ the best outfitters you'll ever meet...guaranteed. It is only through the competence of our own staff are we able to align our clients with the best outfitters in the world. One sure indicator is the fact that we book more second timers with Dunn's than we do anything else. What does this tell us? It means that the people we send hunting are completely satisfied. When we have returning clients or parties they sent to us, we feel good about a job well done.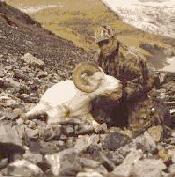 Before you think about spending your dream safari with anybody, we ask that you call Dunn's. Talk to any one of our staff and we know that you'll see that Dunn's offers the most experienced guides anywhere. The picture just to the left is Denny Feerrar with a Dall Sheep in Southeast Alaska. He had quite a trip tracking this one but if you ask him, he'll tell you that it was well worth the effort. Denny is one of our staff members and he lives in Pennsylvania. He's been hunting since he was a boy in the woods of his hometown, but he's expanded his range to Colorado, Texas, Canada, Alaska, Africa, and South America. Not bad for a small town hunter! Throughout his travels he has made friends that will last a lifetime and experienced hunts most only dream about. Staff like Denny make Dunn's a special hunting consultant.